Select your item group below:
Slut med dårlig kaffe på kontoret
Har du også hørt historier om dårlig kontorkaffe? Sådan behøver det ikke at være. Det er i hvert fald, hvad vi mener om det. For den kan sagtens være bedre end den, som du serverer derhjemme, når du gerne vil slappe af.
For at brygge en god kop, skal kvaliteten naturligvis være i orden. Det har været vores store fokus i udvælgelsen af kaffe til virksomheder og erhverv. For der skal jo være noget at glæde sig til, når man møder ind på arbejde.
Alt vores kaffe er beregnet til automater og espressomaskiner. Du har muligheden for at vælge mellem hele kaffebønner, malet kaffe og instant kaffe. Har du ikke den perfekte maskine til den perfekte brygning, tilbyder vi også dette. Så er udgangspunktet for en varm og god kop kaffe til stede.
Drik kaffe på arbejdet med god samvittighed
Vi danskere er nogle af de mest kaffedrikkende i hele verden til trods for, at vi ikke selv kan producere bønner. Men det behøver der ikke at være dårlig samvittighed over, da det indeholder bioaktive stoffer.
Det er godt for dig og dine medarbejdere, da de bioaktive stoffer har en sundhedsfremmende effekt, der blandt andet omfatter formindsket risiko for blodpropper, hjerneblødning og type 2-diabetes.
Og så er der også bare med kaffe, at… Det smager godt! Så når du sørger for kaffe til dig og virksomheden, giver du også dine medarbejdere noget nydelse under dagens små pauser.
Hvordan foretrækker du kaffen?
Der er himmelvid til forskel på, hvad man anser som en god kop kaffe. Der er også stor forskel på, hvilken kaffetype man bedst kan lide. Er det malet kaffe, hele kaffebønner eller instant, der er det foretrukne hos dig eller medarbejderne? Vi har leveret mange poser kaffe til erhverv og virksomheder og kan garantere, at der venter gode oplevelser uanset, hvad du ender med at vælge.
Står du både og skal vælge en kaffeautomat og tilhørende kaffe, vejleder og guider vi gerne ud fra dine konkrete behov. Vi ved meget om den sorte drik og vigtigheden af at kunne tilbyde sine medarbejdere muligheden for at skænke sig en kop eller to i løbet af dagen.
Når du skal vælge kaffe til erhverv, skal du i virkeligheden spørge dig selv, hvor hurtigt det skal gå? Hvor nemt skal det være? Er hele kaffebønner for omstændigt? Fungerer det bedst med malet kaffe?
Uanset hvad du kommer frem til, har vi gode og indbydende muligheder for kaffe til virksomheder.
Rainforest Alliance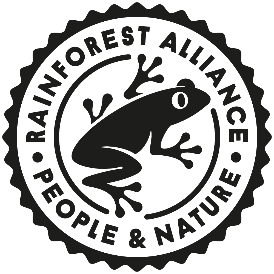 Rainforest Alliance er en international non-profit organisation, der arbejder på at skabe en bedre fremtid for mennesker og vores natur. De arbejder i krydsfeltet mellem erhvervsliv, landbrug og skove. Mærket fortæller, at der når varen bliver produceret, bliver taget hensyn til miljø og bæredygtighed. Mærket sidder typisk på varer, der bliver produceret i regnskovsområder. Det kunne for eksempel være på bananer, kakao, chokolade, te og kaffe.
Rainforest Alliance arbejder på at løse nogle af de mest presserende sociale og miljømæssige problemer i vor tid – herunder klimakrisen – ved at udfordre den måde, os mennesker producerer og forbruger på.
Når du vælger produkter indeholdende Rainforest Alliance certificeringen støtter du de landmænd, der passer på deres arbejdere og vores naturressourcer.
Kaffe til virksomheder – bestil kaffe i lange baner online 
Det skal være nemt at sørge for kaffen i en travl hverdag med mange arbejdsopgaver. Det bliver det i samarbejde med os, da vi leverer kaffe til virksomheder på ganske få hverdage. Vi sørger for, at poserne eller kasserne kommer i rette tid, så der ikke er nogen, der skal undvære morgen- eller fyraftenskaffen.
Vi kan ikke hamle op med bryggetiden på kaffeautomaterne, men vi kan til gengæld levere, når det kommer til god smag og kaffe i massevis. For har du brug for at have mange kasser stående, så der ikke skal bestilles i tide og utide, kommer vi gerne med det, der er brug for.
Så er spørgsmålet bare, om den står på Café Momento, økologisk kaffe eller de lækreste bønner fra St. Michel?
Bestil i dag eller kontakt os for mere information om vores varianter. Så sørger vi sammen for, at der kommer styr på kaffesituationen.
Det "sorte guld" er kun halvdelen af oplevelsen
For der skal også god maskine til for at brygge det! Én ting er at vælge det rette pulver eller de bedste bønner. Noget andet er at have en god automat eller espressomaskine, der formår at levere den rette temperatur og bryggetid. For det er altafgørende for den gode smag og oplevelse.
Vil du gerne have lidt rådgivning her også? Eller er der brug for en service på de maskiner, du har i forvejen? Vi holder os ikke tilbage, når det kommer til at sikre, at kaffen flyder, som den skal.
Se gerne nærmere på vores kaffeautomater, så du altid har noget at glæde dig til, når du møder ind på arbejde.